Do you have news for our 'news' section? mail us!


091001 | Interview Yoel online and more to follow soon. AcidScars 001 released! More info via this site soon. If you are interesed pls. turn to: www.k-hole.nl for distribution; shop opened in Leiden.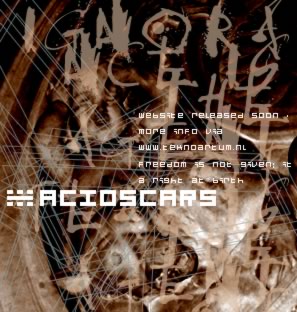 290701 | All the stuff was just moved (temporarily) to some new webspace hosted by AA, many tnx to Henry who saved the day ;-) We are just busy with it, you might find a dead link somewhere, but never worry, we are busy with it. Some important news for you:
* TEKNOARTUM.NET, this domain was bought by the [ta] team, so please use www.teknoartum.net in all your references to this site from now on
* THE DUTCH TEKNO MAILINGLIST will migrate to something else but listbot: they will cease their free activities in the midst of august. If you are a member, please check for further news in your mailbox when the migration takes place. We are working and negotiating hard to keep things as smooth as possible and of course free as well. (note: the mailinglist hosted via freetekno.nl but you can still register here!!)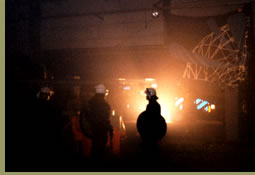 110601 |Ok, a reminder to the 'Mobilisation' party in Paris, next weekend the 16th of june. Parties will be held all over town against a stupid law that will prohibit free festivals and will enable the police to confiscate soundsystems at all times without prior warnings, not giving it back. If you happen to be in France: a protest demonstration is organised by soundsystems, so the infoline is (in France): 3672 1 3-23-3-23. And that the police can be very unkewl in Holland as well was proven on Queen's day for example. A big party in Uithoorn was bashed before it even could start properly. A massive police force was used (while Amsterdam was bashed by a bunch of vandals and no police showed up there!). The saddest thing however was that the police cut the famous thread-head painting (see pic) to pieces for no reason at all; we just call THAT vandalism! More pics of queen's day and also a bunch of other parties and the French teknival are found in our pics section. Also, new picz have been added to the visual art section, from Daan and Pascal from the School of Arts in Enschede. They already displayed some of their objects at Knakk parties. (-> Knakk page also updated). Coming soon is also the new Acid Scars site that can be entered via [ta].
050401 | Enjoy the fireshow once more :-)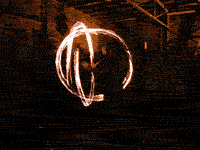 (@ Requiem, 310301, picz: Roman)

200301 | Acid Scars Records will be transmitting soon, their first release of 500 copies is expected in end of June and should contain audio from Scine, Stuffed Amplitude, Storm 10-0-10 and guests. Of course, more info is to follow on your local [ta] site, after the release. More news: while ZMK is still in the midst of their "unfortunally postponed event known as Project Mayhem" (Hi guys!!), we noticed that D-struct is online again! Keep it goin' and we all will be watching for those new pages... By the way, the next interview with Yoel (guess what, he's on the debut of Acid Scars as well) should be online pretty soon now, to accompany the release, to be announced via the mailing. And finally, it was agreed upon that [ta] donates their scanned articles to freetekno.nl when the site is finished, we sure hope other sites will follow, so we have them all in one central place then, could be fun.

020301 | The first in a series of scanned articles (in Dutch) is online now, including the one from Nieuwe Revu (which is mentioned in the Bruce interview, online elsewhere on this site). We still have to decide whether or not they will be here temporarily (so, take advantage and read them now!). Meanwhile, we won't make a proper link in the topnavigation, but you can access the >> press page here.

280201 | Michel, from the Dutch 'Nefarious Records' label, is starting with a new label called 'Duister' (dark) and the first release on this label is planned next week. At least the title promises something good :-) Their former releases were also in dark psychedelic style and we liked them a lot. On their website, they're also working on a mailing list for future releases, but this is not online yet. Anyhow, check their webpage (with new URL) for more info.

270201| The first in a range interviews is online! Nanja fiercely interviewed Bruce and the result you can read in the people section! We also put some new artwork online, worth checking and some other minor changes. Very important: our guestbook finally works again! hint, hint....

240201 | First version of the restyled [ta] webpage is finally online. Since we all partied way too much in our vacation, not everything is completely finished now, but a solid framework to provide you with more and more content is here! So expect updates on a very regular basis now! With this new version of [ta] some new sections were added, and some old ones were lost, but we hope you like it... give us some comments in our guestbook, that would be really nice. Of couse we also hope for content and other input from your side, because that is exactly what makes writing this webpage worthwile! Cya all on a party; the [ta]team
200201 | [ta] will -soon- host a backgroundpage for the new recordlabel "Acid Scars". This new Dutch label will release work of various new producers in a wide range of experimental electronic music, from tekno and pyschedelic acid to abstract ambient soundscapes and everything in between. The first obscure release can be expected within several weeks from now. Later on, Mp3 files shall be available here. If you want to send in demotapes for this new experimental label, please contact [ta] via e-mail. Of course, there are also possibilities to publish work as Mp3 via [ta]. Then send us an e-mail.

140201 | Together with freetekno.nl, it was decided that the Dutch Tekno Mailing will solely be a part of [ta], while freetekno.nl will focus more on the online forum. This proved to be a more streamlined tool for discussions while the Dutch Tekno Mailing is a better means to discuss hot topics and for blabla :-) Freetekno.nl will soon start working on their launch as well. Meanwhile, the link freetekno.nl will still forward people to the acid anonymous site where the tekno discussion forum can also be found.
-news hereafter deleted.-